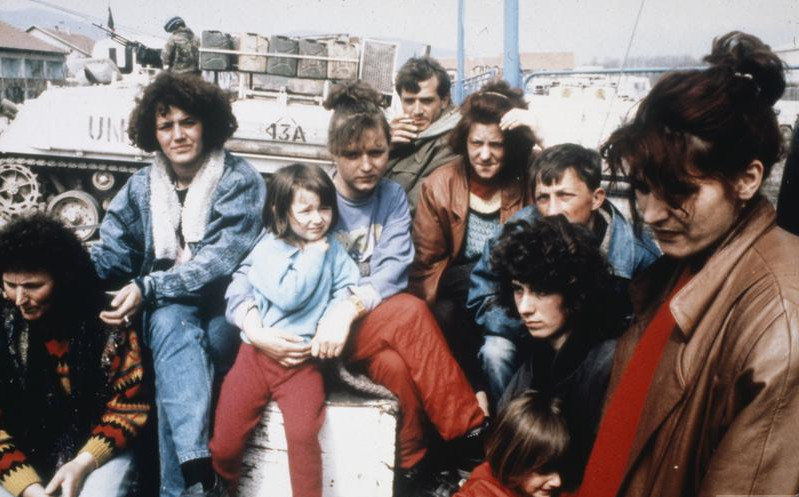 INTRODUCTION: WOMEN'S POST-WAR STRUGGLE
Women in Bosnia and Herzegovina are rallying to come out of the shadow of the persevering patriarchal society where their sacrifices and unrelenting voices have been for a long time diminished, and their strengths and achievements neglected. Nearly 10,000 women were killed during the 1991-1995 war in Bosnia and Herzegovina  and yet few of them have been honored and included on the war memorials and monuments. The female heroes are rarely interwoven into the folk tales and their names almost never adorn city streets. It is all of their collective struggles and tragedies that have brought them together, inspiring the establishment of a multitude of women's rights groups and organisations, each taking the heavy responsibility of challenging the status quo and wielding a sustainable change for all women and girls.
The tireless and courageous pursuit of gender equality by those groups is, in fact, one of the most important post-war narratives in Bosnia and Herzegovina. These women passionately advocated, forged alliances and ensured support to marginalised groups of women as well as to grassroots women organisations that are active in their local communities. The battle faced by these groups is multi-faceted and requires focus and commitment on many fronts. Notwithstanding the country's institutional volatility, the greatest challenge remains the pursuit of collaboration with the country's institutions to strengthen women's rights. This means, on the one hand, that women's groups have to exert influence at political level to preserve the established women's rights and gender equality (even if only partially achieved) and on the other, they need to aim to improve the gender politics and represent the formidable growth of the gender narrative. The gender activists are thus formidable heroines of contemporary Bosnian society.
The tireless and courageous pursuit of gender equality by women's rights groups and organisations is, in fact, one of the most important post-war narratives in Bosnia and Herzegovina.
______
THE RISE AND SUCCESS OF WOMEN'S ACTIVISM
Since the end of the 1991-1995 war, the number of women's groups and organizations has been on the rise and they have gradually expandedtheir scope of work, fromgender-based violence to peacebuilding, from political inclusionto security sector reform, also including economic rights,LGBTI+ rights and thememorialisation of the role of women in war and peacebuilding. It is important to understand that until the United Nations Security Council Resolution (UNSCR) 1325 was passed in 2000, there were no official gender equality bodies or laws in the country. In other words, until that moment women's groups and organisations completely lacked supportive legal platforms.
It was UNSCR 1325 that finally prompted the passing of the Law on Gender Equality in 2003 and subsequently the establishment of the Agency for Gender Equality (AGE) in 2004. AGE's  mandate is to monitor the implementation of the aforementioned law, to coordinate and implement activities promoting gender equality, and to manage the process of devising the country's National Action Plans on Women, Peace and Security. This process of designing an Action Plan has been an intense collaboration amongst the state ministries, entity gender centers, and non-governmental organizations (NGOs), and it very much illustrates the complex political establishment of Bosnia and Herzegovina.
The country is, in fact, comprised of two entities, the Federation of Bosnia and Herzegovina and the Republic of Srpska (RS), as well as the independent Brcko District. All entities are committed to granting equal rights to the three ethnic groups recognised by the constitution  (Bosniaks, Croats and Serbs) as well as to minorities and all other citizens of the country. The Presidency is tripartite and includes a representative from the Bosniak, Serb and Croat constituencies, whereas minorities have no right to run for the Presidency. Women are entirely excluded from the constitutional processes, and their rights are poorly reflected in the  constitution itself. Even if this has not prevented women activists from participating in changes and amendments to the constitution, this political element further obtrudes the gender equality movement from having a unified voice, one that is not ethnically aligned and thus tainted with division.
This complex political element, however, can not eclipse the results that have been achieved so far through collaboration. It is worth noting that the cooperation between the government institutions and women's organisations has not always been fully inclusive, but with time and support and influence from different actors it has improved significantly. The passing of Bosnia and Herzegovina's first NAP in 2010 was indeed accomplished through a joint effort between the civil society and official governmental bodies. Again, the extent of collaboration between institutions and women's groups and organisations has not been smooth. There are still instances in which governmental institutions remain unresponsive and fail to provide support, in what might be somehow considered as "institutional violence".
______
PRESENT CHALLENGES AND PRIORITIES
The initial phases of collaboration only partially involved women's groups and organisations and the first NAP was even criticised for favoring only certain organisations that were not necessarily active within gender rights. It took a great deal of negotiation to introduce certain changes and amendments to the NAPs in order to integrate a gender perspective that was more integrated and recognised. This process, however, still remains a work in progress especially when it comes to marginalised groups who are yet to have their voices heard and integrated within all strategic documents and institutional politics. Constructing (or rather re-constructing) a gender conscious and gender egalitarian society is an ongoing, long-term process, especially in light of the continuous political turmoil.
Keeping this in mind, women's groups and organisations in the country continue to work to incorporate the rights of all women, including women with disabilities, Roma women, single mothers, lesbians, bisexual and trans women, women suffering from rare conditions, and senior women  in all strategic documents within gender mechanisms and other institutions. Some of the collaborative progress of the past two years has indeed been of elevated quality, especially with the already mentioned Agency for Gender Equality. AGE has been increasingly relying on women's organisations and groups for their expertise and services, and also have intensified the implementation of collaborative activities and programs.
Women activists are fighting nowadays with their words, spirits and bodies to educate Bosnian society on gender equality and democracy. And they are doing so also by preserving the memory of those past female voices who created women's peacebuilding history in Bosnia and Herzegovina.
Furthermore, it is important to remember that the reverberating ideas of UNSCR 1325 and the ensuing priority areas of the first NAP have served as an impetus for the establishment of very important clusters of women's organisations. In turn, each of those collaborations and coalitions amongst women's groups and organisations came to represent the nucleus of gender-rights activism in Bosnia and Herzegovina. As such, they have a firm understanding of a society that has been slow to recover from the devastation of war and reluctant to acknowledge the shattering toll it has taken on all of its women and girls. They are aware that honoring the past is just as important as forging a better future and that their successes are closely intertwined with the goals of the country's NAPs.
Women activists have also learned that NAPs are an opportunity to formally recognise and give a platform to issues on which women's organisations and groups have invested for years with little or no backing from the official gender institutions. Such is the case with the six-year long initiative of memorializing women's roles in war and peacebuilding. The initiative, known as 'The Peace With Woman's Face', was conceived in 2014 by members of twelve women's organisations, all of them committed to create a female war and peace narrative in Bosnia and Herzegovina. They created numerous outlets for commemorating women's peacebuilding history and for jointly pursuing the rights for women to be remembered, honored and memorialised. They have supported the publishing of two books on the subject of women's triumphant contributions in war and peacebuilding, filmed a documentary, and curated a photo exhibit that was shown across the country. They have filed a request with official gender bodies to establish December 8 as the official Memorial Day for women. They were rejected without any explanation.
______
CONCLUSION: KEEPING THE WOMEN'S MOVEMENT RELEVANT
In spite of all the challenges and setbacks, gender activists have continued to believe that this particular theme, which has over the last decade emerged as an important element in healing  Bosnia and Herzegovina's society, will need to be formalised in the near future. In the words of Vildana Dzekman from the CURE (GIRLS) Foundation, "It is an audacious pursuit to protect women's voices and triumphs from silencing and oblivion. These are the voices that have to imbue and remain within our institutional politics, art, commemoratives, and our collective memory." The 2020 Action Plan is thus seen, together with other strategic documents issued by gender institutions, as an opportunity to gain traction on the issue.
Many women rights activists aim to challenge the status quo of UNSCR 1325 when it comes to the memorialisation of women's war and peace narratives. Twenty years ago the Resolution was a tremendous mechanism that helped addressing many issues plaguing BiH at the time. The Resolution has not, however, been amended or updated since then to reflect societal changes, especially talking about the memory of women in conflict, a vital post-war narrative aiming to pay due respect to all those women who contributed in building a lasting peace. Furthermore, remembering those women is a powerful source of motivation for all future generations of activists, peacebuilders and feminists.
Women activists are fighting nowadays with their words, spirits and bodies to educate Bosnian society on gender equality and democracy. And they are doing so also by preserving the memory of those past female voices who created women's peacebuilding history in Bosnia and Herzegovina. Those voices, our voices, are powerful and strong enough to reach the ears of institutional politics at national and international level and to define the future of women in peace processes.
____________
Vildana Dzekman is a women's rights activist and a Project Coordinator at CURE Foundation in Sarajevo, Bosnia and Herzegovina.
Esmera Kanalstein is a freelance writer and avid supporter of gender activism.
This article was published under the aegis of the Enhancing Women's Participation in Peace and Security (WEPPS) project, whose goal is to strengthen the effectiveness and impact of the WPS Agenda in Italy, North Africa and the Western Balkans. The WEPPS project is being implemented by the ERIS group (Emerging Research in International Security) of the Scuola Superiore Sant'Anna in Pisa, Italy, in partnership with the Agency for Peacebuilding. It is funded by the Italian Ministry of Foreign Affairs and International Cooperation.