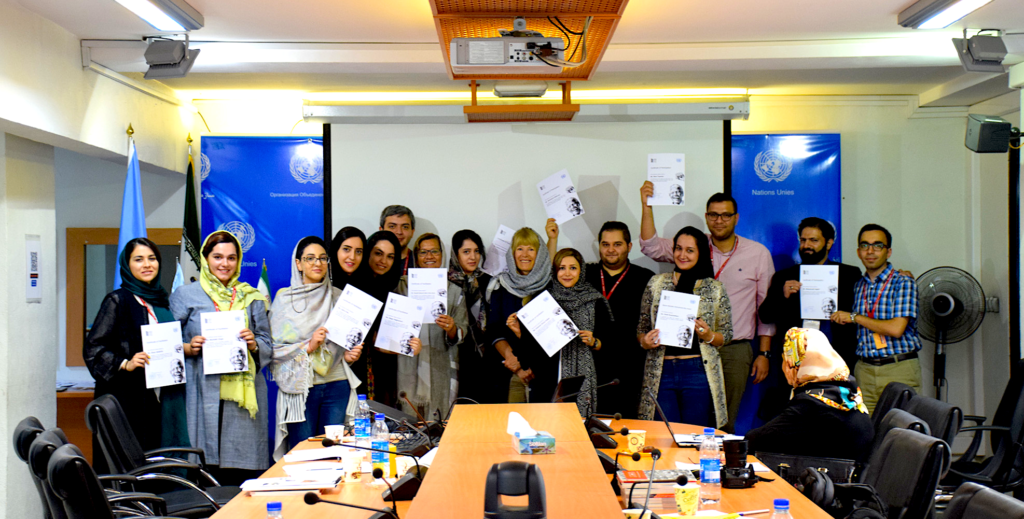 Middle East, Youth
FROM THE BACKYARD TO THE UNITED NATIONS: THE PEACEMENTORS INITIATIVE IN IRAN
This article is published as part of AP's work in support of the Youth, Peace and Security agenda, as defined by UN Security Council Resolution 2250 (2015). To learn more about our work and read the other articles published, please click here.
The adoption of UN Security Council Resolution 2250 (2015) is more than anything the success of the joint efforts of youth organizations, key UN policy-makers, civil society, and governments working in partnership. The Security Council adopted this resolution because it recognized that long-lasting peace cannot be built without protecting the lives and dignity of young people (a total of 1.2 billion people are aged between 18 and 24 today) and meaningfully engaging them in decisions related to peace and security. Their actual contribution and further potential should be valued, recognized and supported as key to shaping lasting peace and contributing to justice and reconciliation and economic prosperity.
Despite UNSCR 2250, young peace activists continue to struggle to engage their communities, ranging from their peers to high-level decision-makers. Many report that key actors in their local communities rarely recognize peacebuilding as a priority and sometimes they even equate it with threats to public order. Even with the lack of mutual understanding, resources, funding and legitimacy as well as the political dangers youth face, a decent number of passionate individuals are the face of change in their communities. Their leadership can pave the way for other actors and institutions—in communities as well as globally—to better understand the contribution young people can make to address societal challenges.
This is the experience of PeaceMentors, an initiative that I started in the context of the UNAOC Young Peacebuilders of MENA Region fellowship, and which is an example of a partnership strengthening UNSCR 2250 and recognizing that "young people play an important and positive role in the maintenance and promotion of international peace and security".
Young people sometimes evaluate their impact as insignificant when compared to the efforts of politicians and decision-makers, but the case of PeaceMentors demonstrates otherwise. Returning from the fellowship experience, I found myself with no institutional support or funding, and faced with the prospect of implementing a project on youth and peacebuilding in a context as delicate as Iran's. I decided to hold a training of trainers on youth and peacebuilding for 5 young people in the backyard of one of my trainee's house. I knew that without any legal affiliation and funds (both notoriously common issues for youth activists, in Iran and elsewhere) I would not be able to reach a large audience or secure a decent venue; nevertheless, I always think some impact is better than no impact. So, the logic behind PeaceMentors became to start small and focus on a cascading effect, and to build a safe space for young people to learn and share: I was hoping that each of the people I would involve would then be able to do the same and hold workshops and training sessions for more people.
Starting with six weeks of training on core definitions and competencies for peacebuilding, along with simulations of negotiation and mediation scenarios, the mentors concluded their course with an intensive facilitation training before preparing their first workshops. These focused on 'The Significance of Language and Culture in Conflict Resolution' and took place in the faculty of language and literature of Allameh Tabataba'i University, where I graduated from. This happened thanks to the individual lobbying and involvement of our connections in the Spanish department, who appreciated the workshop because it was bilingual.
With the determination to make this unregistered initiative legitimate and broadly recognized, I then took my project to the United Nations Information Centre (UNIC) in Tehran. In 2017, following the Youth, Peace and Security Consultation in Asia and the Pacific, UNFPA Iran had in fact turned down two youth peacebuilding proposals by Iranian youth activists because the issue was not a national priority. Determined to change this mindset, I sought to put PeaceMentors on the agenda of the UN using the opportunity provided by Nelson Mandela International Day. UNIC was then happy to offer a venue so that we could conduct a larger training of trainers, involving a total of 17 young people. Partnering with UNIC, PeaceMentors launched the Nelson Mandela International Day events in Iran, marking the centenary of Mandela's birthday.
The impact was no longer directly on five individuals only, but expanded to a total of 22 mentors and two NGOs: the Raad Alghadir Foundation, which focuses on the integration of physically disabled people, and the Association for the Protection of Child Labourers (APCL). Later, the Iranian Research Center for HIV/AIDS also stepped in, as they were partners with UN AIDS. The mentors held two workshops on non-violence, inclusive societies, reconciliation and advocacy for each of these organizations. And all partners welcomed future collaboration with PeaceMentors and offered to provide venues, legitimacy and cooperation opportunities. Needless to say, the Mandela Day symposium, which was an opportunity to showcase our  efforts and to create a networking space, was unique, as young peacebuilders had taken all the steps to organize it. Ms Soraya Jacobs, Chargé d'Affaires of the South African Embassy in Iran, who opened the event, said, "while we are paying tribute to Nelson Mandela, we should focus on actions for humanity, not on ceremonies".
The experience of PeaceMentors shows both the opportunities and limitations of UNSCR 2250. On the one side, it helped to reach out to high-level entities in Iran and engage them on our initiative; on the other, the Resolution was by itself not enough to get these high-level stakeholders to significantly support youth peacebuilding efforts. The lesson here is that there needs to be an intermediary level that bridges the gap between grassroots initiatives and higher echelons, in order to increase the impact and sustainability of youth peacebuilding work.
Needless to say, chances of early success would be higher if youth start occupying this intermediary level using the tools and skills they have. In the case of Iran's peacebuilding scene, PeaceMentors managed to fill this intermediary gap to some extent. Today, more than a year later, the mentors are running three levels of events: PeaceTalks, PeaceEvents and PeaceMentors training programmes. If a group of 5 young Iranian peacebuilders could take an initiative from one's backyard to the UN, there is very little young people cannot do.
Shadi Rouhshahbaz is a young peacebuilder and author currently pursuing a master's degree in Inter-Mediterranean Mediation and Immigration. Shadi is also a UNAOC Fellow, Delegate at the Youth, Peace and Security Consultation in Bangkok and a trained facilitator. She is the founder of PeaceMentors and supports various peacebuilding initiatives globally.